hose towers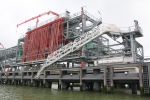 A hose tower is used to support (multiple) hoses from the jetty to (oil) tankers for loading and unloading. A hose tower is a steel construction that contains hoses, one or more telescopic cranes, hydraulic winches, sliding beams and hose buns. The crane hoist the hose on board of the vessel. The winch and sliding beam support the hoses during handling.
Advantages
Because a hose tower contains multiple hoses it can be used for (un)loading different products (simultaneously). The number of hoses can be adjusted to meet the demands of the clients. A hose tower is a flexible solution for handling hoses. The main advantages are:
Time saving (faster loading);
Flexibility (used for a wide range of products);
Compact (multiple hoses in one construction);
Reliability;
Safety;
Easy of use.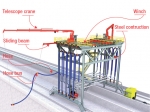 Delmeco Hose Towers
Delmeco has designed, delivered and installed multiple hose towers for various clients. Our hose towers are used every day in main ports like Rotterdam.
Our engineers design the complete hose tower including the automation. All drawings and strength calculations are produced by our own team of engineers.
Our hose towers are designed and built to meet the requirements of our clients. Delmeco can offer:
 The complete mechanical engineering;
 The complete electrotechnical engineering;
 Construction of the (support) frames, loading platforms and equipment;
 Construction of  the control panel;
 Assembly of all equipment;
 Factory Acceptance Test (FAT);
 Transport to location;
 Installation on site;
 Site Acceptance Test (SAT);
 Turn-key delivery;
 Maintenance and 24/7 service;
Crane inspection.
| | |
| --- | --- |
| | |
The dimensions A-F define the size and position of the working area. These dimensions depend on the level of the jetty, the type of vessel and the tides. Based on the working area, the hose tower and the length of the hoses can be engineered. Delmeco can help the client to define the dimensions A-F.
Options
Delmeco can also offer a variety of options:
Remote controls;
Operator room;
Firefighting (equipment);
Lighting;
Cameras;
Drip tray;
ATEX (EExd / EExi);
Maintenance / inspection;
Hosereels.
Examples of Delmeco hose towers:

References
You can find more information and references about our hose towers, gangways and hosereels on our website www.hosetowers.com
When it comes down to constructing, installing or implementing machines or installations, you want to work with the best craftsmen. Delmeco Projecten has highly-trained and multidisciplinary employees that are good communicators.
New builds, maintenance or service, our specialists provide high-quality work and always find the best solution. Our cooperation with the other Delmeco Group companies ensures that we can offer more knowledge and expertise, a decisive approach and custom-made solutions.
Delmeco Projecten is a reliable maintenance partner. We provide maintenance for machines or installations that we build ourselves, but also for those that were built and/or placed by others. We have a combined knowledge of electrical and mechanical engineering which enables us to provide maintenance for complex machines or installations.
When you experience a malfunction it should, of course, be solved as soon as possible. Our own fault-clearing service can be reached at any time and is always on site fast. 24 hours a day, seven days a week and 365 days a year.
For more information you can contact us.
Or take a look at our website about hosetowers, hose towers, gangways and hosereels.