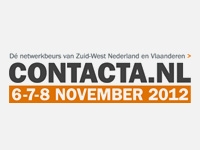 On 6, 7 and 8 November the knowledge and network event Contacta will take place in De Zeelandhallen in Goes. With about 300 exhibitors and over 20,000 visitors in three days time, Contacta is the place to find information and to go networking. The Delmeco Group will participate in the event this year and can be found in stand 286.
We would like to invite you to come and take a look at our stand and let yourself be surprised. At our stand, which measures 120 m2,  several special items will grab your attention. We will, for instance, explain how pulse fishing works by letting visitors feel what electronic pulses are used to get fish moving. Delmeco is Solution Partner of Danfoss Drives and we will also inform you about this. Technico will show the possibilities for charging systems of electric cars. Installatiebedrijf van Gilst will show the innovative Novatube system. A Formula1 sidecar, sponsored by Delmeco can be admired, as well as a state-of-the-art virtual screen with the latest 3D technology. A real eye catcher!
By using this unique link you can register for free entry tickets.
See you at Contacta.nl!