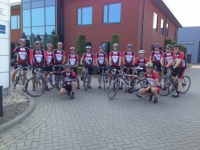 On 8 June 2013 the time had come. On this date the annual Delta Ride for the Roses took place. This ride is the local side event of the official Ride for the Roses (RFTR).
Last year we only had a team competing in the 80 km ride. This year Delmeco put together teams for all distances! And we are very proud of it. In all, 38 Delmeco co-workers and 'friends' rode on 8 June, and contributed thus to the goal of the RFTR: "To have fun in a sport-loving and healthy way, while simultaneously helping fight cancer". This year´s event helped raise €169,760.15. This amount will be donated in full to KWF Kankerbestrijding (a charity organisation that fights cancer).
Next year, the official Ride for the Roses will again take place in Zeeland, and Delmeco will definitely take part again!