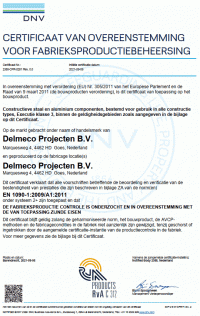 In English:
Recently we received from DNV our certificate of conformity of our Fabrication Production Control system (FPC) for NEN-EN 1090.

From now we can be your certified partner for welding projects under NEN-EN1090 certification.
It concerns certification for:
·        NEN-EN 1090-2 (Steel, Stainless Steel)
·        NEN-EN 1090-3 (Aluminium)
·        both for Execution Class 3 (EXC3)
·        For both engineering and production
 
In 2020 we already obtained the NEN-EN-ISO 3834-2 certification (Welding Quality Management System (WQMS)).
We are now one of the few companies in the Netherlands that can design, engineer, weld and construct constructions and components within execution classe 3.
We are proud of it!