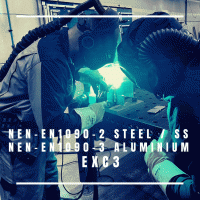 Yesterday our Fabrication Production Control system (FPC) for NEN-EN 1090 was positively audited by NOBO DNV. We are therefore nominated for certification for NEN-EN 1090.
It concerns certification for:
NEN-EN 1090-2 (Steel, Stainless Steel)
NEN-EN 1090-3 (Aluminium)
both for execution class 3 (EXC3)
For both engineering and production
Previously we already obtained the NEN-EN-ISO 3834-2 certification (Welding Quality Management System (WQMS)).
After further positive handling of the necessary formalities, we will belong to a very select group of companies in the Netherlands that are certified for these standards.
We are proud of it!