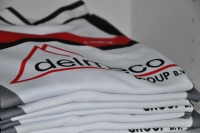 Delmeco Futsal
Enjoyable and sporty are the words to describe the season that has, alas, just finished! The T-shirts lie ready and waiting for September. The only challenge for the Delmeco team now is that they have to wait a long time for the next season to start.
Lying back in the sun and looking back on a highly successful season. The new team made an excellent start and ended the season with good results.
Much to our surprise we were entered in the ZVV de Bevelanden competition. Due to many cancellations the competition was reduced from four to three divisions. As a result, team Delmeco was assigned to the 2nd division for the 2012/2013 season. After a 13-1 victory against Imtech who play in the same competition, we were sure that next season was going to be fun. The good results kept up till after Christmas.
Eventually, one of our goals was to stay in our division. This turned out to be a reachable goal, although for a time it seemed like we might have to adjust our goal thanks to our magnificent start. Unfortunately, we could not keep up our winning streak. "I think that we may be pleased to remain in this division. Hopefully we can compete with the best in this division next season," said the team captain.
Concluding, we can state that the loyal supporters of the team have been able to enjoy some genuine great futsal with every now and then a really thrilling match. We would like to thank our supporters for their support via this news item. We hope that you will be back next year. And to continue our words of thanks, we would also definitely like to thank our sponsor Delmeco for our beautiful outfits and for enabling us to play in the competition!
Our next season can be followed in a different way as well. This summer we will be working on our Facebook page. When it is finished, we will announce it via this website, amongst others. We would like to get many members, so "spread the news" and keep a close eye on us.