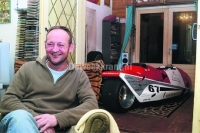 KRUININGEN – So there it is. Prominent in the backroom and impossible to miss: Toon Harthoorn´s F1 sidecar, an RSR Suzuki with start number 67. The shed turned out to be too small, so the sidecar is hoisted into the living room after each race. That way they can work on it at any time.
Passenger Toon Harthoorn from Zeeland got into sidecar motocross at an early age. It all started when at the age of thirteen he visited the TT races in Assen with his brother-in-law. It was in the mid eighties, the heydays of sidecar motocross. Harthoorn: "Back then Bernard Schnieders and Egbert Streuer won the World Championship three times and came in second place four times. Those were epic races, you know. The crowds went wild. I thought it was just magical how the passenger clung to the motor. And even back then, I thought: I want to do that too." But, as happens so often, life took a different turn. School, work and an emigration to New Zealand forced the wish to race to the background.
Once he returned to the Netherlands, the sidecar virus returned.
Cartagena
The passenger: "Five years ago I went to the circuit of Cartagena, Spain, on the off chance. When I arrived, they had just started training. I struck up a conversation with German driver Alfons Steffes who was without a passenger. That was the first time I got driven around as a passenger and I genuinely thought I was going to die. There had been a little misunderstanding. He thought that I had done it before and drove off like a bolt of lightning. Afterwards I fell  to pieces. I had done everything too soon or too late."
No Fear
Harthoorn knows no fear. On the contrary, after his first daredevil rounds, he became even more enthusiastic and decided he wanted to continue. Three years later he competed in his first Classic race. A year later, he had entered the F2 with his permanent driver Jacco Lokerse and last year they started their F1 adventure together. "Guusje, Jacco's son is the main reason for our switch to F1 and the beautiful bike. For the F2 we had to go to Germany quite often, but Jacco wanted to spend more time with his wife and kid. There was an F1 sidecar for sale on the internet, which happened to be the very machine of Alfons Steffes in which I had had my first drive." When asked about the fact that he started out on his F1 adventure at a relatively advanced age, Harthoorn answers laughing: "It is no midlife crisis, you know. Shouldn't you be married for that? I have never been married. It is just my belated childhood."
Please find the complete article here on deweekkrant.nl (in Dutch)