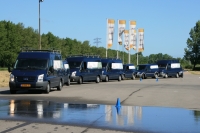 On Saturday 15 June 2013, it was the time for the annual company outing for the Delmeco Projects staff association, RIB and Fishing Technology.
As part of a full day´s programme with karting /bowling among other things, we started in the morning with a safety and skid control course at Dek Opleiding en training in Goes.
The turnover simulator from Veilig Verkeer Nederland (VVN (the Dutch Traffic Safety Association )) was also present. Because the employees´ safety comes first, the management naturally agreed to the use of company cars for this training.
First, we were given a brief introduction/instruction by the instructors over a coffee, and then we went to Dek´s training grounds adjacent to the exit to the A58 near Goes.
All participants were Delmeco managers and employees. They were divided into three groups and each group was trained on various components such as braking on a straight road,  evasive manoeuvring, braking at a slippery road and roadside corrections. With the turnover simulator we learnt how to get out of a car that has toppled over while you are inside it with your seatbelt on. Finally we were all allowed to drive with the instructors during the so-called 'moose test'. It goes without saying that this was a riot!
For all of us this was a very instructive programme that earned all participants a certificate.
Have a look at the pictures to get an impression of this training.